Hurghada: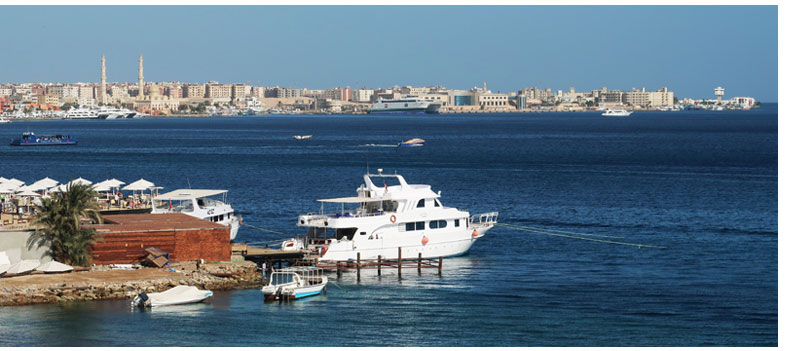 In the 1980s, the few inhabitants of the small and once poor fishing village of Hurghada created a boom that now accounts as much as 12 percent of Egypt's gross domestic product. Hurghada became the first and most popular tourist destination of the Red Sea, meanwhile grown into a big city. 160,000 inhabitants are spread along a 30-kilometer coastline. Throughout the year, tourists from all over Europe visit the numerous hotels of all price and comfort categories that have settled along the coastal roads. Most of them come from Germany and Great Britain.
In the very north of Hurghada, on the city limits to El Gouna, another tourist centre is being built in the Al Ahyaa district.
Further south, the old town centre ad-Dahar is connected to it. The colorful Egyptian life can be observed the best here, e.g. with a visit at one of the great Egyptian markets. The tourist center is located in El Sekalla with many hotels, restaurants and shops as well as the new luxurious marina and the famous entertainment mile on Sheraton Road.
Another lively promenade is Al Mamsha, between other well-known hotels like the Steigenberger Al Dau Beach and the Grand Resort. Here you will also find the Hurghada Hard Rock Café, among other attractive locations.
In the very south of the city there is another hotel street, the so-called Magawish district. Slightly elevated, above the rooftops of the city, you will find the Sky Star Village with our Villa 25 directly at the exit of the city at the checkpoint to Safaga. After an exciting day in the holiday metropolis of Hurghada, it is best to relax in this area far away from package tourism, but still with sunrise over the sea and sunset in the mountains of the Arabian Desert.
The Red Sea: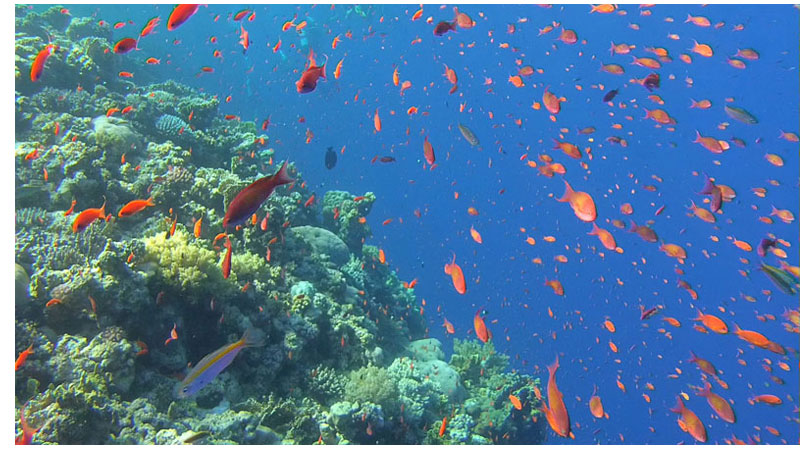 Year-round temperatures above 20 degrees – both in the air and in the water – make Egypt the ideal holiday destination. Meanwhile, the warm water temperatures create a natural phenomenon: colorful coral reefs like those in the Red Sea are found nowhere else in the world at similar northern latitudes. Normally, for such a natural spectacle, you need at least 12 hours of flying time to reach a destination like Asia. However, you can reach the reefs of the Red Sea within 4 to 5 hours from airports in Europe. These are ideal conditions for divers and snorkelers, who are brought to the best reefs in the area on boats from numerous providers.
For those who do not want to dive or snorkel by themselves, there are also glass-bottom boats and even a submarine in Hurghada that give the nature-interested tourist an insight into the fauna and flora of the Red Sea. In addition, the numerous sandy beaches offer best opportunities for relaxation. From the Sky Star Resort you are at beachfront within a few minutes of driving.
Full Service for best Relaxation:
Simply get away from home and don't have to worry about anything else: With our full service you can plan and book your holiday from home without any problems. Upon arrival you can choose from an all-round carefree package: airport transfer, rental car, individual taxi service on site, a filled fridge, daily cleaning of the holiday home as well as exclusive excursion and adventure programmes let you enjoy tailor-made relaxation during your holiday.
With all our above mentioned services we provide you on the one hand with links that refer to selected companies, on the other hand we let our connections work for you and put you in contact with the most suitable people on site. All following offers are only recommendations. We neither act as a provider or organiser nor as an agent in the sense of a travel agency. The booking is exclusively made directly with our respective partners. Should we pass on your data to one of our partners at your request, they will contact you to discuss and complete the booking process of offers directly with you.
Before Travel:
You have booked your stay with us? With your travel documents you will also receive a link to our 'Red Sea Vacation' app, which you can download from Google Playstore for all Android smartphones. Our app provides you with all the information about your upcoming dream holiday in a compressed format in your pocket. So the excitement starts immediately!
You can also organize some things in advance from here. Let's get started!
Booking Flights:
Book your flights right from here on the best portals on the net.
BravoFLY Flight Search
Opodo – Flight Comparison
Fly with TUIfly.com

Airport Parking:

You drive to the airport in your own car? Here we have listed affordable alternatives for parking – shuttle service to the departure terminal and of course back to your car after your holiday is included!
Airparks.de – better parking!
Park and Fly
Overnight Stay at the Airport:
Your flight leaves early in the morning, so you have to get there the day before? Or you come back late so that your journey home doesn't make sense anymore? No problem. Many hotels near the airport have attractive offers in this case.
Park and Fly
HRS – Hotel Booking Portal
Arriving in Hurghada:
German citizens need a passport for their stay in Egypt, which is valid for at least six months beyond the booked trip. Alternatively, entry is also possible with an identity card. In this case, however, two biometric passport photos are also required.
Usually, entry cards are already distributed in the airplane. Every traveler must fill these forms out carefully. In addition, after landing you have to buy a tourist visa. We recommend buying the visa at one of the entry counters in the arrival hall. Here you only pay the regular price of USD 25.00 or the equivalent amount at the current exchange rate converted into Euro or any other currency. Alternatively, the visa is offered by numerous tour operators. However, they charge a commission for their services, which makes the visa more expensive.
Please inform yourself before your trip about all special requirements for your entry into Egypt. For this, e.g. your respective consulates will be at your disposal.
Shuttle Service:
On request, we will order an individual shuttle service for the transfer from or to the airport. You can add this service at a price of only EUR 27.00 while booking your accommodation. The service includes your personal pick-up with a name sign at the airport and the transport from there to the villa. On the day of your departure you will be collected in time and brought back to the airport.
On request, our shuttle service will also be available for you at any time during your stay. Within the city limits of Hurghada we have negotiated a fixed rate for you. So you avoid tough negotiations with other taxi drivers. With your travel documents we will send you the contact to our local contact person. With him you can then discuss the desired pickup times.
Advice: If you want to make several rides with our shuttle service during your holiday, the provider also offers you a ten-ticket for rides in the city of Hurghada. This is even cheaper to buy. However, unused rides cannot be refunded.
Prices for trips outside the city of Hurghada can be discussed directly with the driver.

Rental Cars in Hurghada:
You want to be mobile even in Hurghada? For this you need an international driving licence (based on international agreements signed by the State of Egypt) and above all good nerves! It is quite possible that other road users will approach you from all sides while driving.

If you want to book a rental car anyway, we recommend that you do this already from Europe. The regulations in Egypt, especially regarding the insurance of the vehicles, cannot be compared with the usual procedures in Europe. So if you want to be prepared in case of an accident, book from home and read the small print!

Below we list the providers with whom we have already made good experiences:
TUI Cars – globally mobile
Europcar Car Rental
Opodo – rent at low cost
CHECK24 Car Rentals
Shopping Service:
You like to come to a house with a filled fridge when you arrive? Or you don't want to waste time with shopping during your stay? Our local service partner offers the delivery of your desired goods punctually on your arrival or within one day after your order directly to the villa.
You can send your shopping list by e-mail or via the Red Sea Vacation App. Our service partner will do his best to get all products on your list. Please limit your order to food and beverages as well as other common household products of daily use.
For his service our partner charges a service fee of LE 350.00 in addition to the cost of goods up to a purchase value of LE 1,750.00. If the purchase value is higher, the service fee is 20% of the respective value of goods. Payment is made in cash on delivery.
Included Services:
We want our guests to worry as little as possible about other things than their relaxation during their holiday. We have made arrangements for this and provide a range of included services in our accommodations.
The tap water in Egypt is not of drinking water quality. Therefore we provide a water dispenser with drinking water. Because in hot Egypt drinking is very important! But our guests do not need to carry around heavy bottles! If the supply of drinking water runs out, a simple information is enough and we will get you free refills!
For washing food, for everyday things like brushing teeth or for cooking, we have installed a water filter with which our guests can wash salad or fruit directly in the sink without having to draw water from the dispenser. We have also equipped the kitchen with common spices and sugar. Using the right ingredients, there is nothing to prevent a delicious meal. In addition, toilet paper, detergents and cleaning agents for cleaning the villa are provided on arrival.
If our guests, apart from the final cleaning of the villa which is carried out by us anyway, do not want to deal with the cleaning during their stay, we recommend our cleaning service that you can even order while booking your accomodation.
Cleaning Service:
Benefit from our room service just like in a hotel! Every day made beds and cleaned rooms can be ordered while booking your stay!
As an alternative to booking the daily cleaning, you can also book our cleaning service occasionally via the Red Sea Vacation App.
Activities and Excursions:
For those who want to experience fun, culture and variety during their holidays, besides lots of sun and relaxation, we can refer you to a provider in Hurghada, who offers a variety of different activities and excursions. You can easily contact us via our Red Sea Vacation App. The booking will be done in personal contact with the operator.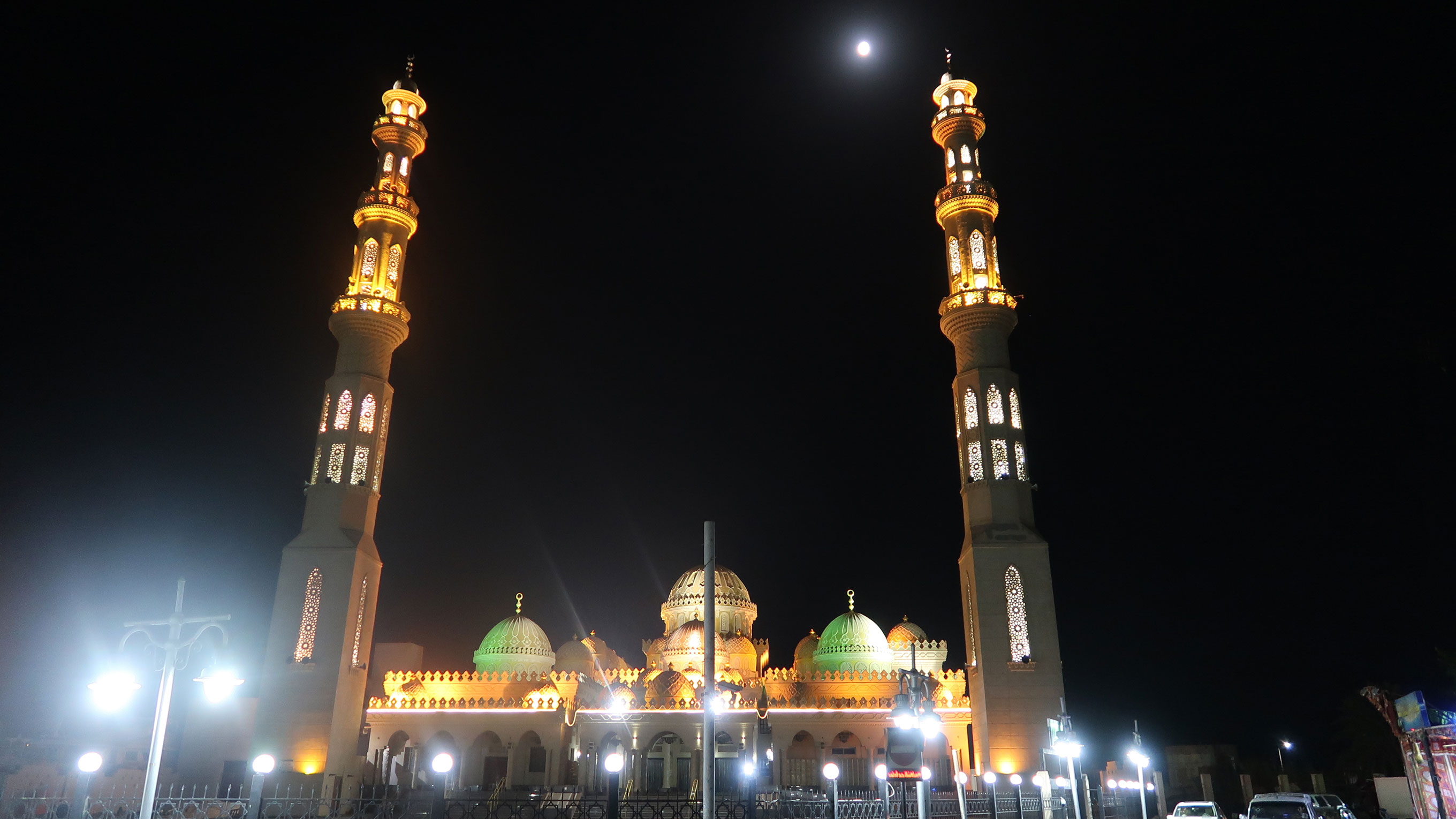 How about a private discovery tour through your holiday city Hurghada? Accompanied by a local guide, you will visit the Al Mina Mosque, the fish market and the marina, among other places, during the four-hour exploratory tour. You will also experience an original Egyptian souq in ad-Dahar and immerse yourself in the traditional culture of your holiday destination. You will learn everything that is worth knowing about Hurghada – starting with the history of the city, its importance for tourism in the country and the way of life of the locals.
You are more interested in the Red Sea? Our service partner has the right activities for every taste: If you want to snorkel by yourself, a boat trip to the Giftun Islands might be a good idea. If you want to stay dry and still watch the fish, you might want to take a trip on the glass-bottom boat. Or we can recommend a top-rated diving centre that will introduce you to the secrets of the underwater world!
Do you want to dive even deeper, but into Egyptian history? Then join one of the day trips to Luxor, including a visit to the Valley of the Kings, the temple of Queen Hatshepsut etc. and a stop at one of the world famous papyrus factories. Or you can visit the capital city: A day trip also leads to Cairo. Here you will see the Egyptian Museum, the pyramids of Giza and the mysterious Sphinx statue.
The range of activities that can be booked via our Red Sea Vacation App is constantly being expanded.
Book now:
Hurghada and Egypt are always worth a visit. With a stay in our luxury villa your vacation will become a dream holiday! Take a closer look at the villa and reserve your stay quickly!